Shiatsu Cervical Back and Neck Massager Shawl With Infrared Heat
$149.99 USD
$64.99 USD
You save:

$80.00 USD

(53.34%)
Shiatsu Cervical Back and Neck Massager Shawl With Infrared Heat
$149.99 USD
$64.99 USD
You save:

$80.00 USD

(53.34%)
Product Description
Description
Do you sit at a desk all day long? Repetitive motion or immobility may cause neck and shoulder pain.
An upper or lower back massager with heat may help relieve muscle tension and reduce migraines.
This fully adjustable massager has heat to loosen muscles, 8 deep kneading acupressure massage modes, 3 adjustable strengths and 2 massage directions, all to fit you and your specific needs.
Multipurpose Use:
Relieve UPPER OR LOWER Back Pain: Your back muscles can become very tense due to overuse or repetitive use during a rigorous workout or a sitting at a desk all day long. When massage is applied, some of the tension is released.
At Home

: 

After sitting down, enjoy a massage on the neck and shoulders while watching TV for relaxation from hard work.
In the Car: Equipped with a car adapter, the shoulder massager will help relieve stiffness and soreness from the long trip.
In the Office: Sedentary  lifestyle in the office surely has a negative impact on your health. Enjoy great stress relief by this shoulder massager for 15 minutes to enhance your well-being.
Features:
8 deep kneading acupressure node:

 

The shoulder massager is designed with 8 massage nodes (4 large nodes and 4 small nodes) and an ergonomic U-shaped design that perfectly fits your body parts. Contour shapes such as neck, shoulders, waist, and legs. Mainly to provide you with a thorough deep acupressure kneading massage. Help your body release stress and soothe muscles.
Advanced heating function:

 

The heating function provides soothing comfort for muscle soreness and helps you relax by promoting blood circulation. The roller head can only be heated to about 40 degrees so it won't hurt the skin. The roller head can be heated to approximately 40 degrees and can be adjusted. Automatically shuts off if gets too hot.
3 adjustable strengths and 2 massage directions:

 

The three adjustable speed/strength levels from low to high provide you with a multi-functional massage experience that suits the needs of different groups of families. Press the direction button to change the rotation to reverse. If not, the massager will change direction every minute.
A wide range of uses and best gifts:

 

The 3D neck massager is equipped with a wall-mounted power adapter and an additional car adapter for use in cars (12V) when driving for long periods of time. Support dual voltage 100-240V. So you can do electric self-massage at home, in the office or in the car. This is the perfect gift for loved ones!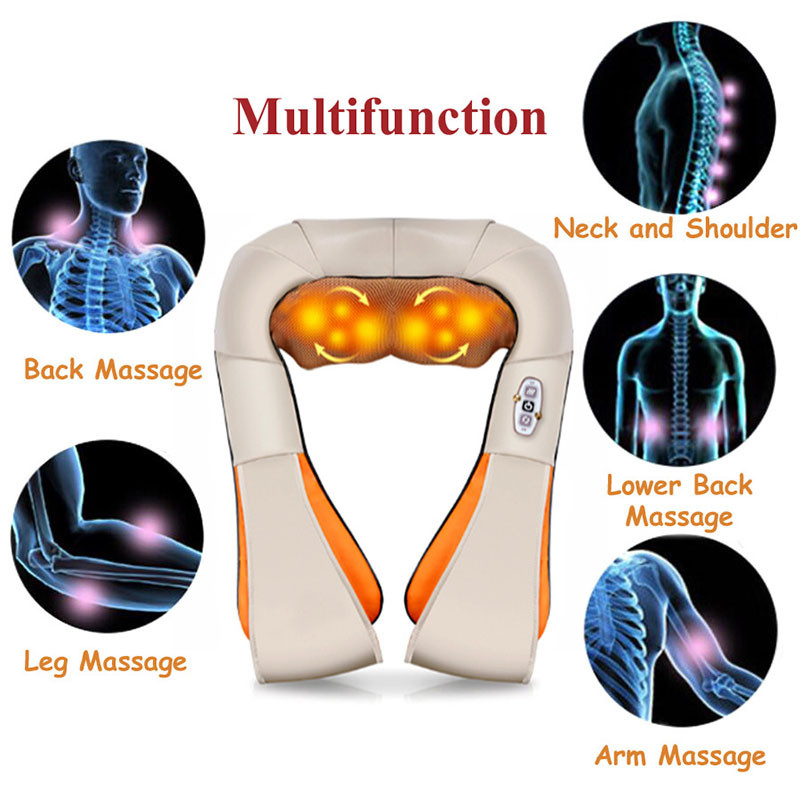 4 to 6 buttons                               VS                                        3 buttons
 Speed adjustable                  VS                                 Speed un-adjustable
Specification:
Item Type:

Massage & Relaxation

Model Number:

massage cape 0082

Size:

Medium

Application:

Body

Material:

Cotton, ABS

item type:

massage & relaxation

packing list:

product Certificate of conformity

Instructions sending method:

Station letter or mail

massage application 1:

neck massage

massage application 2:

back massage

massage application 3:

waist massage

massage application 4:

leg massage

massage application 5:

body massage

color:

Beige
Shipping
Most Products have 2-7 Business Day Shipping. Diffusers may take a bit longer.
Ships within 1-3 days. Overnight & 2nd Day air not shipped out on the weekends. Friday Shipments will be delayed by the weekend
Shiatsu Massager
This type of massager was highly recommended to me by my masseuse who uses them herself. As indicated in the description it can be used all over the body. I am currently using it down for neck back, arms and legs. It took me a while to adjust to it as I was using a regular hand massager which was more of a surface temporary fix. I prefer to use it with the heat on. I have been able to cut back on seeing my chiropractor and masseuse since I purchased it.